Pour Vous is a wholesale distributor
founded and owned by Kathy Ellis and Queta Giron Schaefer.
Based in Everett, Washington, 30 miles north of Seattle, the company's designs are made to order in Lima, Peru. Pour Vous had its origins in 2002, in a restaurant where the two were enjoying dinner. After a woman tried to buy a ruana off Kathy's back...a gift from Queta, who had gone to Peru to visit family...Kathy turned to her friend and said, "I wonder if there's a business in this?"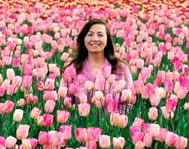 The next month Queta, pictured at right, went back to Peru and brought home 40 ruanas in a suitcase. Kathy contacted the Seattle Trend Show and ordered
a small booth
for the organization's next exhibit. The two crafted their own signs and displays, and off to the show they went..."completely clueless," laughs Kathy. The show went fairly well. They took orders for about half of what they brought to the show. Modestly encouraged, they contacted Queta's brother in Lima to replenish their stock.
As the budding entrepreneurs struggled to get the business off the ground, they soon found themselves immersed in shipping regulations, customs requirements, duties, taxes, and trade agreements. They became experts in the Harmonized Tariff Schedule, the Andean Trade Promotion and Drug Eradication Act, and the Peru Trade Promotion Agreement.
(As Kathy says, "If you ever have a really bad case of insomnia, I can't recommend these reading materials highly enough.")

More shows followed, but with negligible success. The two were selling their products, but only enough to pay for trade show booths, advertising, and more product. Profit? A mirage. Discouragement set in. Kathy and Queta were at a trade show they had decided would be their last when, out of nowhere, they suddenly found a line at their booth one morning, and did $6,000 in sales before lunch. At that moment it occurred to Kathy and Queta that they might just make it after all. Within two months, they doubled the sales done in the full prior year.
It was at this juncture that two pivotal figures entered the picture at Pour Vous: the vastly experienced fashion sales representatives
Sherry Boerum and Susann Craig. They decided to take on Pour Vous' line. This fortuitous connection with two insightful industry pros soon saw Pour Vous greatly expanding its sales territories and refining its business and customer service practices
.
Within two years of their mentorship, Pour Vous was doing six times the business they had been doing. Their representatives provided
invaluable expertise, guidance and management advice to the company.
Today, 13 years after their humble beginnings out of a suitcase, Kathy, Queta and Pour Vous have done business with more than 600 boutiques in 47 states and Canada.